Seth Rogen appears on "Jimmy Kimmel Live" on March 10, 2014.
ABC
Jimmy Kimmel has the hots for Seth Rogen in a new mock trailer for the second season of "True Detective."
The first season of the hit HBO crime drama came to a close Sunday night, and cast members Matthew McConaughey and Woody Harrelson won't be back for season 2, which will instead focus on a new set of detectives.
On Monday night's installment of "Jimmy Kimmel Live," which was taped on location in Austin, Texas, at this year's South by Southwest festival, the late-night host offered up a clip featuring himself and Rogen as possible replacements for Harrelson and McConaughey.
In the sketch, the "This Is the End" star acts similar to McConaughey's character on the show, clearly off the deep-end after having seen one too many crime scenes. At one point, Rogen brags about free-basing gluten, but Kimmel isn't impressed.
But, by trailer's end, the two detectives discover their hidden feelings for each other, as seen in the video below:
Today Joey Essex appeared on ITV's Loose Women to talk about his new reality show Educating Joey Essex.
Just as the interview was coming to an end he was asked about the rumours that where floating around online over the weekend about he dating Sam Faiers again.
Joey replied: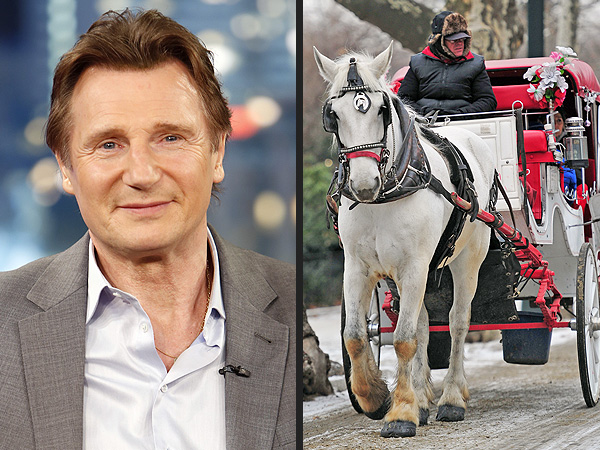 Liam Neeson and a New York City horse-drawn carriage
ABC/Getty; Stan Honda/Getty
"Mad Men" star Elizabeth Moss poses topless in overalls on the cover of New York magazine, talking about her brief marriage to "Saturday Night Live" alum Fred Armisen.
New York Magazine
The duo tied the knot in 2010 but divorced just eight months later. Moss, 31, explained to the mag, "It was extremely traumatic and awful and horrible. At the same time, it turned out for the best. I'm glad that I'm not there. I'm glad that it didn't happen when I was 50."
Moss added, "I'm glad I didn't have kids. And I got that out of the way. Hopefully. Like, that's probably not going to happen again. Looking back, I feel like I was really young, and at the time I didn't think that I was that young."
Kendall Jenner is reportedly "heartbroken" after she and One Direction singer Harry Styles decided to go their separate ways.
Although the couple never officially told the world that they were in a relationship, photos of the two smooching and hanging out together led everyone to believe that they were getting close. However, Jenner and her boyfriend ultimately split months after rumors of the romance started making the rounds.
Depending on who you ask, Kendall Jenner's split from Styles was either smooth sailing or devastatingly turbulent. Since neither Kendall or her ex-boyfriend have shared their feelings with the world, we have to rely on anonymous sources for info. In other words, none of this stuff is very reliable.
The Internet Freaks Out Over Romantic #Hendall (?) Pics http://t.co/7TPPLuL3sD #Kenry pic.twitter.com/C9jowj2gol
Anne Hathaway has some fun with her iPhone camera while arriving on a flight at LAX Airport on Monday (March 10) in Los Angeles.
The 31-year-old actress recorded some video of cameramen while being followed a few paces behind by her husband Adam Shulman.
PHOTOS: Check out the latest pics of Anne Hathaway
The day before, Anne and Adam were seen sharing a romantic kiss while spending some time together at the beach in Fla., where she attended the 2014 Miami Film Festival.

Drew Barrymore and her husband Will Kopelman went shopping together in West Hollywood, Calif. on Sunday (March 9).
Earlier in the day they were with 18-month-old Olive at the park. The actress – who is expecting their second daughter – let her hubby carry the bags while she chatted with a drink in her hand.
In her interview with the New York Times the actress talked about her view on acting and her mentor Steven Spielberg.
She admitted, "I don't think I'm a good actor. I feel like it's fake and yucky and it just doesn't ring true. But like Robert said, if you research and you study and make it personal, you just become that person, and it's your truth and everything else around you falls away. Then you're telling the truth, it's not lying, it's not fake. So he gave me that wisdom because at 6, I guess I was comfortable and more humorous than I would have remembered now. But once I got older and kept continuing acting, I don't know if I would have succeeded without that advice, because it's the thing that saved me. I'm not an actor, I'm a pretender.