Miley Cyrus loves her dogs but now she has taken it to the next level by kissing them lips to lips to say bye as she leaves for her world tour.
On Monday she posted the photo above with the caption of:
'I don't wanna leave my babies .'
"Extra's" AJ Calloway caught up with "American Hustle" stars Jennifer Lawrence, Christian Bale, and Bradley Cooper as they promoted the upcoming film.
Christian talked about gaining over 40 pounds for the role, saying that he was no longer Batman, but "Fatman," before returning to his normal weight after filming. Jennifer talked about her annoyance at how quickly Christian was able to drop the pounds.
Bradley Cooper chatted about the inspiration behind his wild hairdo in the movie, and whether he would show up to the awards shows this season in his full "American Hustle" getup.
Check it out!

RSS : ExtraTV.com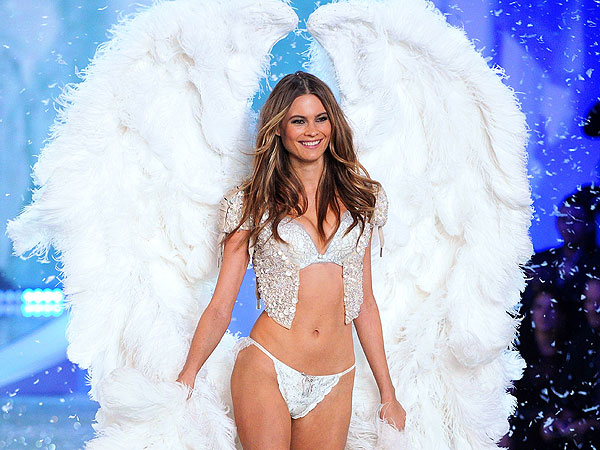 Behati Prinsloo at the 2013 Victoria's Secret Fashion Show
Bryan Bedder/Getty
by Sabrina Rojas Weiss (@shalapitcher)

Meet Alexander Kjellevik. If you're a Britney Spears fan, you may already know and kind of hate him for breaking Brit's heart in her "Perfume" video, which premiered today. Or maybe you know him because you're a connoisseur of male models. Either way, it's Tuesday night, and we have a long week ahead of us, so we just decided to share a little eye candy.

The 6'2″ 28-year-old is from Oslo, has green eyes and makes a very good backdrop for Britney's woeful stares in the video. You can see more of his gorgeous face (and lips!) here. Or you can see him pose naked here. We think he's a big improvement over Jason Trawick, so we hope Britney had some fun on the set. Damn, where did we go wrong in choosing a job that doesn't involve swimming with Norwegian models?
Isla Fisher picks up her 3-year-old daughter Elula while shopping at The Grove on Friday (December 6) in Los Angeles.
The 37-year-old actress was also joined by her daughter Olive, 6, for the holiday shopping trip.
Amy Adams recently spoke to Vanity Fair about how she didn't understand why she is constantly mistaken for Isla.
"I get Isla Fisher all the time, still. And I know Isla, and for a while our kids went to the same dance school. When I'm with Isla, we both look at one another and … I get it but I don't get it," Amy said. "But just like I tell her, it could be a lot worse. I could be mistaken for a lot worse people."

Name: Hank Randall Baskett IV
Parents: Kendra Wilkinson & Hank Baskett III
Date of Birth: December 11, 2009
Siblings: Hank will become a big brother next year as his mama is due with baby no. 2
Facts: